Vegan Ice Cream Brands We Are Loving Right Now!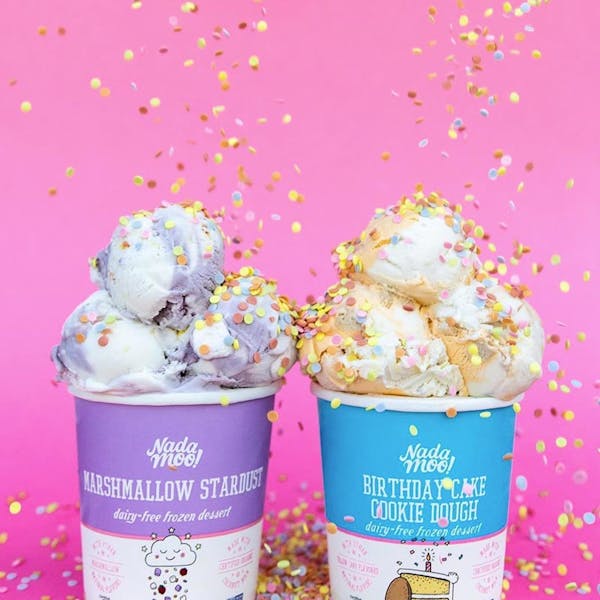 Today, July 21st is National Ice Cream Day! To celebrate we want to share with you vegan non-dairy ice cream brands that we are loving right now!
In 1984 President Ronald Reagan designated July as National Ice Cream Month and the third Sunday of the month as National Ice Cream Day and we think that the world is better for it! Who doesn't love the creamy, smoothy, cold ice cream?? Vegans and non-vegans all scream for ice cream! The good news is that there are more and more amazing non-dairy, vegan ice cream options popping up on the market. Ice cream makers are using bases like Coconut, Avocado, Almond and others to create creamy, textures that rival traditional ice cream.
Here are some of the brands that we are loving right now!
Nada Moo!
Made with organic coconut milk, Nada Moo! is definitely a favorite. Since 2004, the folks behind Nada Moo have been making delicious small-batch coconut-milk ice cream. https://nadamoo.com
Cado Avocado
It is Cado is the first avocado-based, non-dairy ice cream. What will surprise you when you taste Cado Avocado is the total creaminess without any avocado taste. It is vegan, soy-free, gluten-free and made in a peanut-free facility. http://cadoicecream.com/
Van Leeuwen
This artisan ice cream started in 2008 out of a yellow truck in NYC. Although they aren't a 100% vegan brand, we love that they offer as many vegan flavors as non-vegan. All ice cream is made from scratch in Brooklyn. The Vegan scoops are made with housemade cashew milk, organic coconut milk, organic extra virgin coconut oil, organic cane sugar, pure cocoa butter, and organic carob bean. https://vanleeuwenicecream.com
Courtney's Cookies Ice Cream Sandwiches
What isn't to love about Sweet Melody Ice Cream smashed between two Courtney's Cookies! This decadent combination is organic, gluten-free, nutrient dense and amazingly delicious! https://www.courtneyscookies.com/
Revolution Gelato
We love this award-winning organic gelato so much that we carry it by the pint or you can have it by the scoop. Revolution Gelato products are organic, non-GMO, vegan, kosher pareve, dairy-free, gluten-free, soy-free, egg-free, and ethically sourced. with flavors like Cardamom Spice, Darkest Chocolate, French Press Coffee, Full Throttle Vanilla, Majestic Mango and Orange Cream, there is something for every taste! https://www.revolutiongelato.com
Wink Frozen Dessert
We have people running to the store for this Keto Friendly, Plant-Based Ice Cream. At just 100 calories a pint you will have absolutely no guilt and be able to stay true to your Keto diet! https://winkfrozendesserts.com
Vegan Fine Café Açaí Swirl
We have to end our list with our own in-house pure Açaí! Imagine, pure açaí, not mixed with anything, soft, creamy and so delicious and swirled just for you in a cup or cone. That is exactly why we are loving this new addition to our Vegan Fine Cafe! Double the taste experience by having it swirled with our featured second flavor (dragonfruit or passionfruit). It is the base for our famous açaí bowls or enjoy on its own in a cup or cone.
We have your vegan ice cream cravings covered at Vegan Fine Foods! See you soon and bring your appetite!!