NuGrub Teriyaki Balls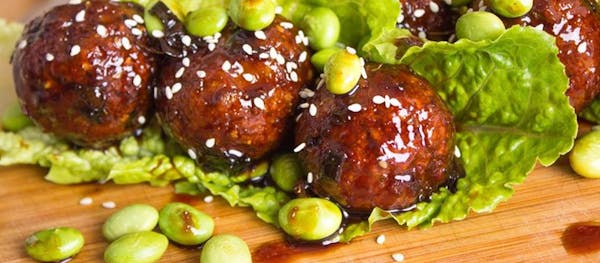 NuGrub Teriyaki Balls
You will love this recipe that uses NuGrub an amazing 100% organic mix that is made from sprouted chickpeas for optimal nutrition and digestibility
Stop by on any weekend at Vegan Fine Foods and chances are you will run into Mike from Nu Grub Vegan Food. Mike
Tacos, Meatloaf, Burgers and Drumbles are just some of the things that you can make with NuGrub
NuGrub Vegan Food Mix
NuGrub Teriyaki Balls
Makes 10 Meatballs
Time: Estimated 40 minutes
Meatball Ingredients
1/2 cup NuGrub
1/2 inch fresh grated ginger
3 garlic cloves, grated
1/4 cup minced yellow onion
1/2 cup panko breadcrumbs
2 tbsp sesame seeds
4 tbsp soy sauce
4 shakes of sesame oil
1 green onion, sliced
1/4 cup of water
Teriyaki Sauce Ingredients
1/2 cup soy sauce
1/2 cup water
4 tbsp maple syrup
1/2 inch fresh ginger, grated
1 green onion, sliced
4 shakes of sesame oil
Chili flakes and pepper
Sesame Seeds
Directions
1. Preheat Oven to 350 degrees
2. Add all the ingredients (EXCEPT WATER) into a large bowl and mix
3. Slowly add the water until the mix is firm enough to roll and hold the ball shape. (you don't need to use all the water)
4. Roll into approximately 10 balls
5. Place balls evenly on a parchment lined a baking sheet
6. Bake in a 350-degree oven for approximately 22 minutes or until firm all around
7. Add all the Teriyaki Sauce ingredients into a saute pan and simmer on medium-low heat.
8. Simmer slightly thicken for 11 minutes stirring often. This will prevent the sugars from caramelizing and burning! Taste and adjust any flavors to what you like! Add more maple syrup to be sweeter or more chili flakes for some added heat.
9. After the NuGrub balls are done, toss them into the pan and cook for an additional 15 minutes.
10. The sauce should turn into a glaze by now. Top with extra sesame seeds and edamame!