6 Must Make Kelp Noodle Recipes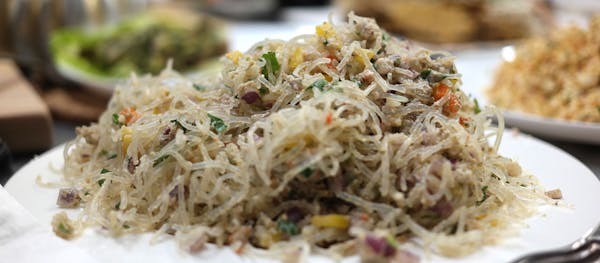 6 Must Make Kelp Noodle Recipes
Kelp noodles are gluten-free, raw, nutrient-rich replacement for pasta
What are kelp noodles?
Kelp noodles aren't noodles at all. The only resemblance they have to pasta is how they look. They don't feel or taste like pasta, but when mixed with your favorite sauces and veggies they can satisfy the pasta craving but in a much healthier way!
Kelp noodles are clear, thin noodles made from kelp, a brown seaweed that is high in iodine, also contains over 70 minerals, enzymes, potassium, magnesium, calcium, iron and 21 amino acids. They are virtually tasteless, are gluten-free, have zero grams of fat, no sugar, and almost negligible carbs per serving.
Kelp noodles are considered a raw food. If being raw is important to you it is always a good idea to check the bag to be sure. The brand we carry at Vegan Fine Foods is considered a raw kelp noodles and a favorite of in-house raw chef, Olga Keller.
Using kelp noodles couldn't be easier. Just remove from bag, rinse under water, pat dry and use in your recipe! Kelp noodles are long, so to make them more manageable, use your kitchen shears to cut the noodles to the length you like. So, whether your diet is gluten-free, raw, or you are just lowering carbs, kelp noodles are a great ingredient.
You can find kelp noodles online, health food stores, Whole Foods and of course, Vegan Fine Foods! A 12-ounce package costs about three to five dollars. Don't let the size of the bag fool you. Once you open it up this compact bag blows up to quite a large bowl.
We wanted to share a few of our favorite kelp noodle recipes, so you can start incorporating this fantastic pasta alternative and enjoy a mineral-rich, delicious meal!
Kelp Noodle Summer Salad by Chef Olga Keller
http://www.olgakeller.com/recipe/kelp-noodle-summer-salad/
Asian Kelp Noodles by Chef Olga Keller
http://www.olgakeller.com/recipe/asian-kelp-noodles/
Simple Healing Kelp Noodle Miso Soup by Honestly Nourished
http://www.honestlynourished.com/healing-kelp-noodle-miso-soup/
Kelp Noodles with Avocado Pesto by Meat Free Keto
http://meatfreeketo.com/kelp-noodles-avocado-pesto-low-carb-gluten-free-nut-free/
Kelp Noodles with Spicy Peanut Sauce by The Healthy Family and Home
https://thehealthyfamilyandhome.com/kelp-noodles-with-spicy-peanut-sauce/
Salads, Soups, Pasta, Sushi – Endless Ways to Use!
You can switch up pasta and rice with kelp noodles for a healthy replacement. Kelp Noodles are a great ingredient to keep in your pantry and add into your rotation of healthy cooking options! Bon Appetite!